TenMinuteHistory is run by me, Doug Priest. I have a PhD in Russian and Soviet History from Michigan State University and have additional specialization in Modern Europe, Dance Ethnography and the Digital Humanities. My academic research examines bodies and movement at the Bolshoi Ballet in the years after the Bolsheviks seized power in 1917.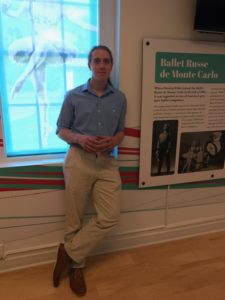 I am also interested in the ways in which the internet and digital media can be used by those working in the humanities to bring their fields to a wider audience and to present their work in new and accessible ways. Through TMH and other digital projects, I hope to connect professionals and non-professionals in the humanities and to bridge that gap whenever possible. I am also a long time dancer, advocate for the importance of the arts and humanities in society.
I currently work as a Digital Managing Editor for a US-based media company. I am also a volunteer editor at H-Russia and H-Podcast and panel member at AskHistorians.
For more information about TenMinuteHistory, visit the about page.
Want to get in touch with me? tenminutehistory@gmail.com